Classrooms & Nurseries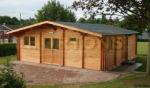 The population is rising year on year and pressure on schools to provide teaching areas follows on from this. Our log classrooms provide a much more economical solution to brick built classrooms and also look for more pleasant than portacabins. We can provide a flexible solution to suit any class size ensuring children's education won't suffer.
Log Cabin Classrooms & Nurseries Available Options
Our fully insulated twin skin log cabins are ideally suited for economic educational buildings - much cheaper than brick built and far more environmentally friendly as well.