Steel Chassis For Log Mobile Homes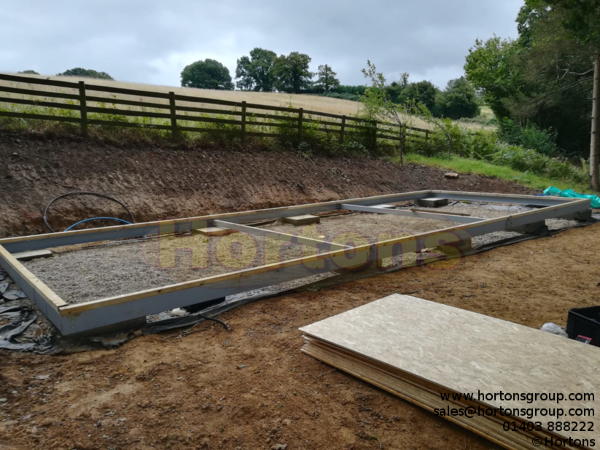 We can supply steel chassis with lifting points of any size (only) for our log cabins - we list standard sizes and prices on our website but any size is possible.
Therefore we can convert our standard log cabins into fully transportable log cabin and therefore qualify as a mobile home once installed upon our chassis, as dictated by "The Caravan Act".
Cabins over 4m wide need to be manufactured in a way that they can be seperated into 2 halves and therefore 2 chassis will be required as it will need to be a "Twin Unit".
The chassis rest upon a series of concrete pads or a full concrete raft foundation (not included in the price).
This kit includes-
Full structural steel ring beam
Intermediate steel spacer bars
Red oxide primer applied to all steel components for long term rust protection (ready for you to apply your own finishing top coat)
Structural tanalised timber joists
Tanalised timber noggings all around perimeter
Tanalised timber base plate (to be bolted onto the steel ring beam)
OSB3 boards to give a flat deck over the whole structure
All bolts and fixings supplied
NB - Timber parts need to be cut and notched on site.
Log Cabin Steel chassis for log mobile homes Available Options
This is a brief summary excerpt from the caravan act -
Definition of a caravan
Section 29 of Caravan Sites and Control of Development Act 1960:
The term "caravan" means any structure designed or adapted for human habitation which is capable of being moved from one place to another (whether by being towed, or by being transported on a motor vehicle or trailer).
Caravan Sites Act 1968 Section 13 – definition of twin unit caravans as amended by the Caravan Sites Act 1968 and Social Landlords (Permissible Additional Purposes). (England) Order 2006 (Definition of Caravan) (Amendment) (England) Order 2006:
(a) length (exclusive of any drawbar): 65.616 feet (20 metres)
(b) width: 22.309 feet 6.8 metres)
(c) overall height of living accommodation (measured internally from the floor at the lowest level to the ceiling at the highest level): 10.006 feet (3.05 metres)
Transportable log cabins
Our steel chassis make any of our log cabins fully transportable to fully comply with the mobile home act - just adding this Hortons product gives anybody an easy and simple solution.