Contemporary Cube Garden Office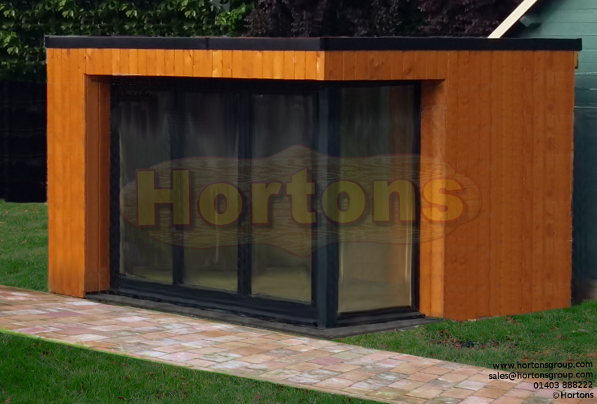 Easibuild Contemporary Garden Office
This sectional workshop is not only ideal for self assembly due to our unique "Easibuild" panelising system, but also very strong (3"x2" framework with diagonal braced corners in every panel, meaning very rigid walls). We also include a very heavy duty floor (19mm thick supported by floor bearers spaced every 400mm) which is ideal for machinery, storage, studio or even a number of industrial uses.
We aim to make this range of workshops as user friendly as possible - for both the design and suitability for your site (we can make it any size you require, to the nearest millimetre!), and also for self assembly (it may be a large building, but it comes in bite-size panels to make it easy for delivery and transfer to the site for the building).
In combination with our easy installation method, we can also offer factory treatment to ensure your new workshop will last for years to come. This is not a cheap and cheerful stain like some other companies offer (and then in their small print they say it's just a base coat and you have to paint it again within weeks of delivery), but a full finish process using Remmers Aidol treatment which is one of the best garden building treatments available.
Workshop Specifications
Overall height - 2.44m (within planning restrictions)
Eaves wall height - 2m (taller than most, and easily high enough to walk throughout without hitting your head)
18mm (finished thickness) tanalised shiplap cladding
47x75mm wall framing
Trussed roof
Diagonal braced corners within each wall panel for superior strength
Breather membrane lining to all walls (keeps it much drier inside during the winter)
Green mineral Felt
Panelised floor (quick to assemble) made with floor bearers at 400mm spacings for a very strong floor
Joinery made, log cabin quality opening windows as standard
Safety glass
Very strong double doors (3" thick, clad both inside and outside for high security)
3 electro-galvanised heavy duty hinges on each door with each leaf bolted through for maximum security
Options
Doors can be flush or inset on the front wall (see photos for both options)
Extra doors
Extra windows
Different size options for both doors and windows
47x100mm or even 47x150mm framing for larger buildings
Insulation packs (for roof, walls or floor - you can choose) for all year round use
Felt shingles (last up to 30 years)
Factory painting using high quality Remmers Aidol waterproofing timber treatment
Made to measure service - can be made to any size or shape!
Veranda decking within inset area in front of doors (if you choose to inset your doors)
Log Cabin Contemporary Cube Garden Office Available Options
Lining choices
We offer a number of lining choices, plasterboard is the standard lining but we can also supply moisture resistant MDF and tongue & groove timber boarding (TGV) (price on application).
There are 2 types of plasterboard, square edged and tapered edge - square edge requires plastering, tapered edge requires taping and filling (commonly known as dry lining). The dry lining option should be taken for anything other than plastering by a professional plasterer. All options will still require full decoration after installation.
NB - Hortons do not undertake plastering or taping & joining - this needs to be done by others (ie, by the customer or a contractor employed by the customer)