Log Cabin Contemporary Cube Garden Office Pod
Log Cabin Model: HG-easibuild-DIY-strong-cube-garden-office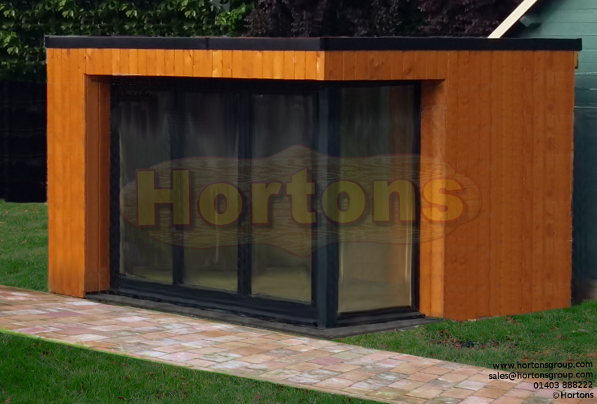 Click images For Enlarged View
Available Now For £300.00
Easibuild Modern Style Cube Garden Office

Well constructed timber garden buildings are usually manufactured in large, very heavy and awkward panels which can make it difficult to actually get the building into into your garden - especially if you have restricted access (width or height). Sometimes having to take them over a garage roof or fence which involves lots of extra manpower and expense. This is why we have come up with our unique "Easibuild" garden building range.

The walls are made using bite-sized pieces, but built in such a way that the end resulot is a very strong construction (resulting in each wall being stronger than if made in 1 large panel), this eliminating the access problems.

In combination with panelised floor and roof panels (again all very manageable sizes, although the roof panels can be heavy especially if you have chosen the canitlevered canopy design due to the large timber beams ensuring the strongest structure possible), this garden office is ideal for DIY installation.

We have our own dedicated factory which makes these garden buildings and structures, therefore we can not only make any size or design you choose but we can also offer factory painting using high quality Remmers Aidol treatment meaning that once you have built it, it's done and fully weather-proofed.

Cube Office Pod Specifications

Overall height - 2.45m (within planning restrictions)
18mm (finished thickness) tanalised cladding (can be vertical or horizontal cladding)
47x75mm tanalised wall framing
70x140mm roof purlins - very strong
Diagonal bracing within each wall panel for strength
Breather membrane lining to all walls
EPDM rubber roofing supplied as standard (complete with all glue and trims required)
Tanalised floor panels
Tanalised floor bearers at 400mm spacings for a very strong floor
Office includes for 4 glazed panels as follows:

Double glazed, double doors with eurolock security (1565x2125mm)
2 x joinery made, log cabin quality fixed sidelights (690x2125mm)
Safety glass as standard

Includes delivery to most of the UK - see terms and conditions for free delivery area postcodes

Options

Upgrade to house quality windows and doors, or aluminium bifolding doors
Extra doors
Extra windows
47x100mm or even 47x150mm framing for larger buildings
Insulation packs (for roof, walls or floor - you can choose)
Change window sizes - we have many choices available (click here)
Factory painting using high quality Remmers timber treatment
Made to measure service - can be made to the nearest millimetre, any size, shape and layout is possible!