Log Cabin 6x4m Small Sports Changing Room
Log Cabin Model: 2179-6040-45-11S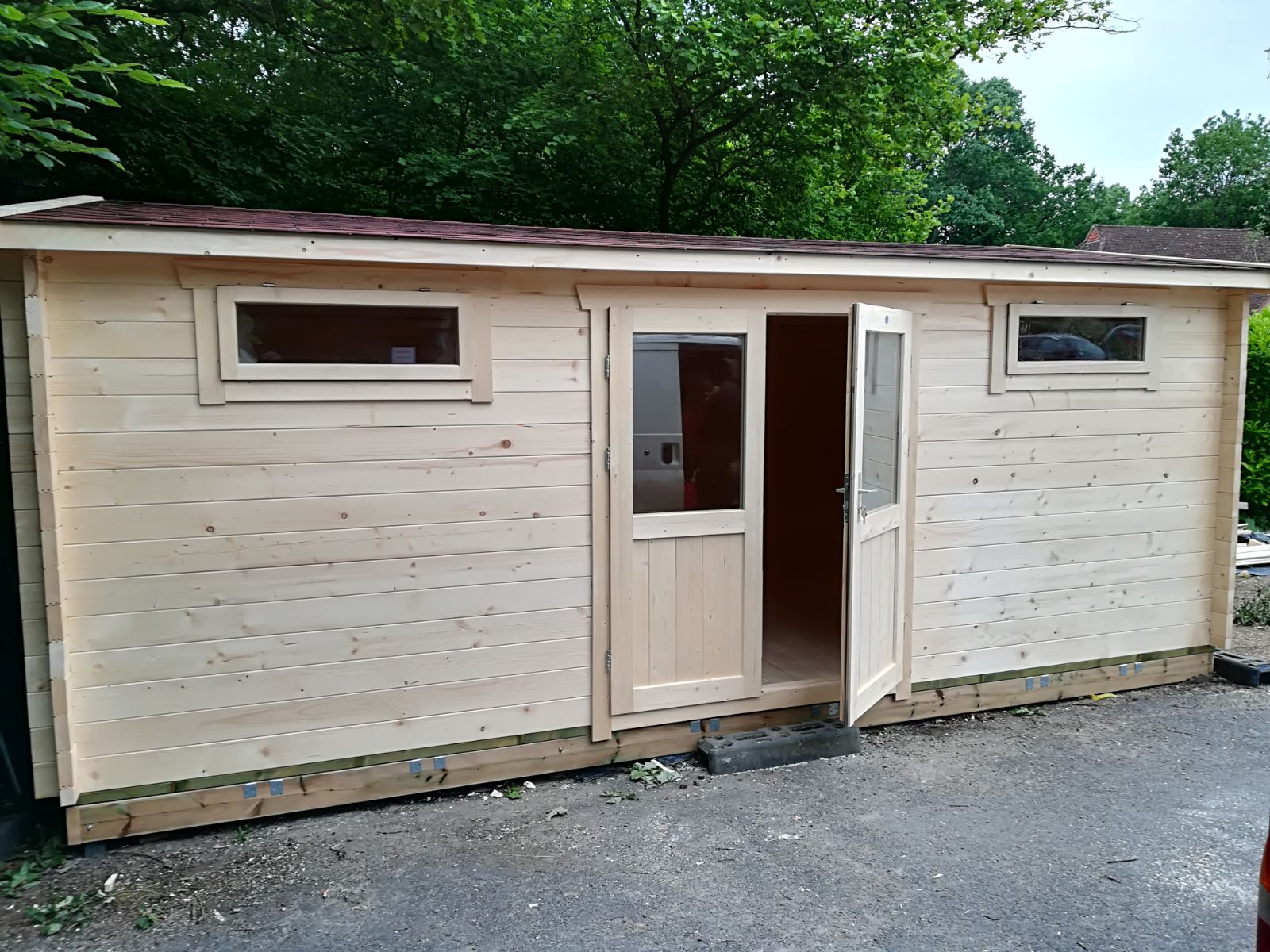 Click images For Enlarged View
Available Now For £5,491.01
Log Cabin 6 x 4m Small Changing Room Specification

This log cabin has 45mm strong double tongue and groove interlocking logs

Log cabin width: 6m, (log end to log end, not including any roof overhangs)
Log cabin depth: 4m (log end to log end, not including any roof overhangs - 4m inc front canopy)
Ridge height (gable roof): 2.5m.
Eaves Wall Height- 2.1m
Number of rooms in this cabin- 1
Front Roof Canopy- N/A
Roof and floor boards - 19mm solid wood T&G boards (not sheet material)
Ideal base size for this log cabin = 5.8m x 3.8m
Double glazed double doors, half glazed 1855x1565mm:1
Windows and doors are fully finished and pre-glazed at the factory using silicon sealant and internal beading
All Doors are supplied with handles and high security Euro lock system
We can customise your cabin because they are all made to order
Insulation kits available for all year round use
Tanalised floor bearers spaced every 400mm thus providing a very strong floor
This cabin complies with planning rules for outbuildings within 2m of the boundary (max height = 2.5m)

Extra Information & options available for this cabin

Frosted glass
Roof shingles, felt or Fixings
Veranda
Base kit
Extra partition walling, doors and windows
Upgrade to 28mm floor boards from standard house strength 19mm boards
All of the wall, roof and floor timbers used in our log cabins are solid boards, not finger jointed
Our log cabins are measured log end to log excluding any roof canopies or overhangs
Need advice? Please call us on 01403 888222 for helpful and free advice any day of the week from cabin experts who have real experience – we aren't just sales staff selling a product that we've never seen or touched
More options and prices are listed below.................

This cabin is ideal for a small sports club or somewhere that needs a small changing room facility.