Log Cabin 4x6m Corner Cabin
Log Cabin Model: 4x6m corner cabin - 4013-4060-xx-14s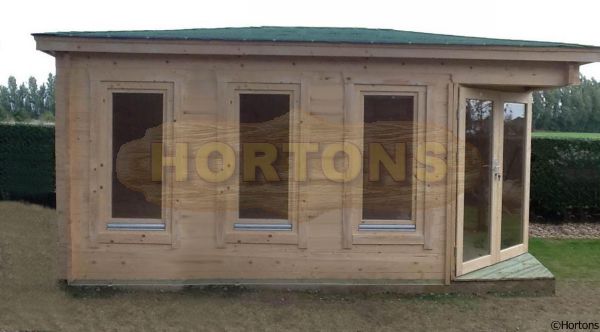 Click images For Enlarged View
Available Now For Call For Price
4x6m

Corner Cabin

Specification

Log Cabin Dimensions

Overall log cabin width : 4 m
Overall log cabin depth excluding roof canopy : 6m
Minimum base width required : 3.8m
Minimum base depth required : 5.8m
Wall height : 2.1 m
Ridge height : 2.5 m
Hipped roof all round
Roof canopy over doorway
T&G roof board thickness : 19 mm
T&G floor board thickness : 19 mm

Also Included With This Log Cabin

4 x Single windows, 1230x710mm
Fully glazed double doors, 1855x1565mm
Tanalised floor bearers

If don't want a square box in your garden then this is for you - a 4x6m (or 6x4m - it is reversible!) log cabin that has the doors cut into the corner at 45 degrees to give a "wrap-around" look. This really softens the cabin and is attractive to look at from any angle.