Log Cabin 5x4m Pent Roof 35mm Log Cabin
Log Cabin Model: 3015-5040-35-8s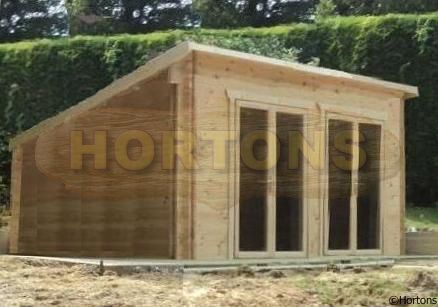 Click images For Enlarged View
Available Now For £5,540.51
Kensington 35mm 5x4m Pent Log Cabin Specification

This log cabin has 35mm strong double tongue and groove interlocking logs

Log cabin width: 5m, not including any roof overhangs
Log cabin depth: 4m, not including front roof overhang (4m inc front canopy)
Front wall height (gable roof): 2.5m
Rear wall height- 2.1m
Front Roof Canopy- N/A
Roof and floor boards - 19mm solid wood T&G boards (not sheet material)
All of our log cabins of our cabins (excluding 28mm wall log thickness) are double glazed as standard
Double glazed double doors, fully glazed 1855x1565mm : 2
Tanalised floor bearers
The wall logs have tapered tongues and grooves ensuring they are a tight fit for strength and weather resistance
All Doors are supplied with handles and high security Euro lock system
Insulation kits available for all year round use
Tanalised floor bearers spaced every 400mm thus providing a very strong floor
This cabin complies with planning rules for outbuildings within 1m of the boundary

Extra Information & options

mezzanine floor
Roof shingles, felt or Fixings
Be careful! Not all cabin suppliers will send the windows and doors pre-built and there will be a lot of work required after delivery to build and glazed them.
We always send spare logs, roof and floor boards to make sure that you can definitely finish once you start to build
All window and doors have fully adjustable hinges fitted as standard
All of the wall, roof and floor timbers used in our log cabins are solid boards, not finger jointed
Our log cabins are measured log end to log excluding any roof canopies or overhangs
Need advice? Call us on 01403 888222 for helpful and free advice 7 days a week

If you like this style of cabin but it's not quite the right size for you, have a look further down this page for links to similar stylles of cabin but in various sizes. If in doubt, please ring us for guidance as we can supply any size of cabin to any design of your choosing.