Post And Beam Garage By SolidLox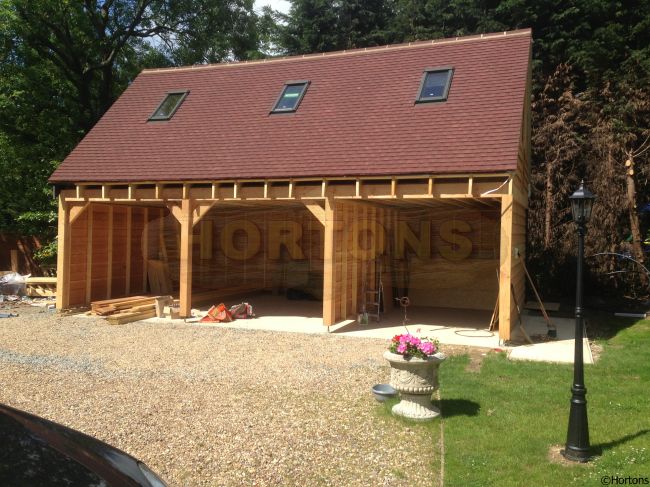 Green Oak Framed Post and Beam Garages
The post and beam method of building has been around for centuries and is truly tried and tested. It is an easy system to build the main skeleton of a building very quickly, which can then be "in-filled" with various materials to make it weatherproof.
Apart from Oak, we offer a choice of materials from which to make our Post and Beam building-
Green Oak Post and Beam Timber Frame
This is the classic material to make post and beam buildings from. Green oak is easy to work with initially but over time it gets harder making it a very resilient structure.
Other timbers also available-
Douglas Fir Post and Beam Timber Frame
This timber is ideal for structural use as it is very strong, has good weather resistance, minimal amount of knots and has a regular grain pattern meaning that it is unlikely to distort very much
Pine Post and Beam Timber Frame
Pine is the most common redwood and had many uses. It is a good strong timber and is regularly used for structural building purposes.
Glulam Post and Beam Timber Frame
Glulam timber is formed by elimintating the undesired parts of planks and then glueing them together to form big sections of timber, thus forming a very strong beam.
Built to your specification and Requirements
This Post and Beam Sytem can be a stand-alone design, or can be designed sympathetically with it's surrounding buildings to fit in as the 'perfect addition' - SolidLox gives you the ability to "Design & Build" simply, easily and cost effectively.
NB - all graphics in this section may vary in precise detail and specifications from the actual kit supplied. We reserve the right to change speciifactions without prior notification
Log Cabin Post and Beam Garage by SolidLox Available Options