Log Cabin Treatments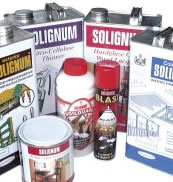 We offer various timber treatments, some better than others for certain applications. If you are not sure which one is right for you, then feel free to ask.
The paints that we sell offer a long life - they may not be the cheapest to buy initially, but they have up to a 10 year life (Sadolin Superdec)! You could buy a cheap "own brand" stain or paint and have to re-paint your building every year or spend may be less than twice as much but get up to 5 x the lifespan saving you time and money over the lifespan of the building.....No contest!
Log Cabin Log Cabin Treatments Available Options
Generally solid opaque paints (Sadolin Superdec or Teknos Aquatop) will last up to twice as long as timber woodstains (Sadolin Classic woodstain or Sadolin Extra Durable woodstain) - possibly up to 10 years for Superdec as opposed to up to 5 years for stains (Classic, Extra or Remmers Aidol).
With a vast range of hundreds of colours to choose from (including the RAL and NCS colour ranges), we are sure that we have the perfect colour for you.
Please note that we are unable to offer collections at the moment. You should allow about 12 days for delivery of Sadolin (not guaranteed) as there is so much demand (they are all picked, mixed and packed to order, and currently there is a backlog).
All non-standard Sadolin paint colours (most of them) and Aquatop paints are picked, mixed and packed to order, therefore they are non-returnable.