Made To Shape Lean-to Log Cabins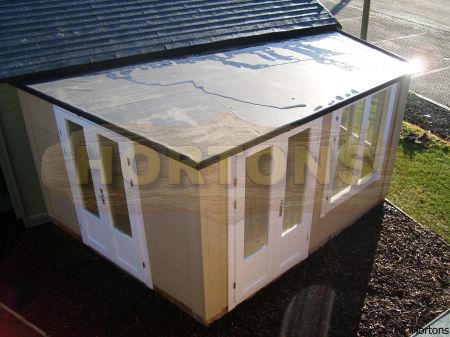 Do you have an area of ground where you would like to build a cabin but can't find anything that fits because of the awkward shape? Then this is the category for you- we can supply literally any shape of cabin. It is purely a case of fitting the optimum size of square cabin into the space available and then adding "lean-to" extensions onto 1, 2, 3 or even all 4 walls which can be made to fit to the shape required. The lean to parts don't even have to look like "add-ons" as the roof can extend from the main cabin to cover them as well, without a break in the roof angle.
Please be aware that these cabins may require a bit more work when installing compared to a standard log cabin (various items may be supplied in "knock-down" form which will need to be made or cut on site, etc) , but this will definitely be worth the effort to maximise the dead area available that you have and turn it into very usable space..
Log Cabin Made to shape lean-to Log Cabins Available Options