Log Cabin Easibuild Super Strong Workshop
Log Cabin Model: HPB-easibuild-timber-workshop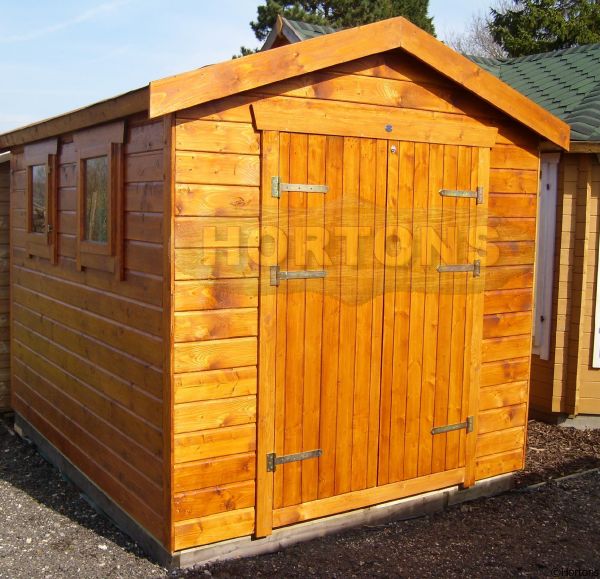 Click images For Enlarged View
Available Now For Call For Price
Easibuild Timber Workshop

One of the main problems with a strong, well constructed timber building is that they are very heavy and awkward to actually get into your garden. They are often not only very heavy but also large panels - if you have restricted access (width or height) then quite often, short of hiring a crane for the day, you have to look for other options. This is why we have come up with our unique "easibuild" workshop.

The walls are made using a stacking system where each wall is at least 2 panels high and cab ne a number of panels long - thus eliminating the problems previously described (size and weight of panels). We have also introduced extra strengthening into each wall to tie it all together very quickly and easily during the build to make it probably the stongest workshop construction you will ever come across. In combination with panelised floor and roof panels (again all very manageable sizes), this workshop is ideal for DIY installation.

We have our own dedicated factory which makes these garden buildings and structures, therefore we can not only make any size or design you choose but we can also offer factory painting using high quality Remmers Aidol treatment meaning that once you have built it, it's done and fullt weather-proofed.

Workshop Specifications

Ridge height - 2.44m (within planning restrictions)
Eaves height - 2m (extra tall meaning you have plenty of headroom throughout the building)
18mm (finished thickness) tanalised shiplap cladding
47x75mm wall framing
Trussed roof
Diagonal bracing within each wall panel for strength
Breather membrane lining to all walls
Green mineral Felt
Tanalised floor panels
Tanalised floor bearers at 400mm spacings for a very strong floor
Joinery made, log cabin quality opening windows as standard
Safety glass
Double doors (3" thick, clad inside and out for security and strength)
Galvanised door furniture
3 x heavy duty hinges on each door with each leaf bolted through for high security

Options

Extra doors
Extra windows
47x100mm or even 47x150mm framing for larger buildings
Insulation packs (for roof, walls or floor - you can choose)
Felt shingles
Factory painting using high quality Remmers timber treatment
Made to measure service - can be made to the nearest millimetre!
Any size, shape and layout is possible!