Log Cabin 5x3m Lean-to Non-square Sun Room
Log Cabin Model: Made-to-shape-log-cabin-01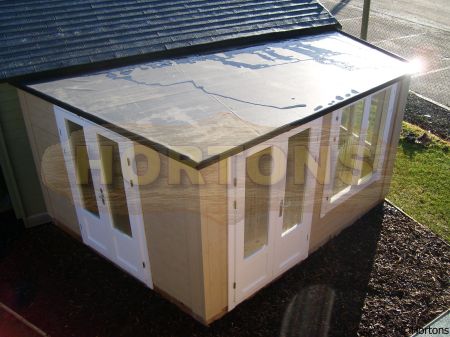 Click images For Enlarged View
Available Now For £3,735.54
This is our showground model built to show what is possible and to give you ideas.
There are no square corners on this building.
We often find that our buildings, cabins, sheds, etc are positioned into a corner of the garden where more often than not, it is not square and there ends up being wasted ground behind which is why we have developed this flexible shaped cabin. It does need to be a lean-to rather than a stand-alone structure, so the idea is for you to choose a regular log cabin from our standard range to which the made-to-shape can be attached and fill the remaining space.
Windows and doors can be inserted wherever required including inter-connecting doors back into the main cabin- ideal if this lean-to has been built behind the main cabin into an area where there would ordinarily be no access.
The model pictured has a rubber EPDM roof system, which is one large piece of rubber with no joins - therefore no leaks. It is made by Firestone and has a life expectancy of around 50 years!
The windows and doors shown in the photos are all bespoke to show that we can also supply made to order bespoke joinery, whether it be a non-standard size or a different design, or both. The pricing below is shown for standard windows and doors (2 x half glazed double doors and 2 double windows).