Log Cabin Premier Solis Summerhouse 7' X 7'
Log Cabin Model: SI-003-001-0037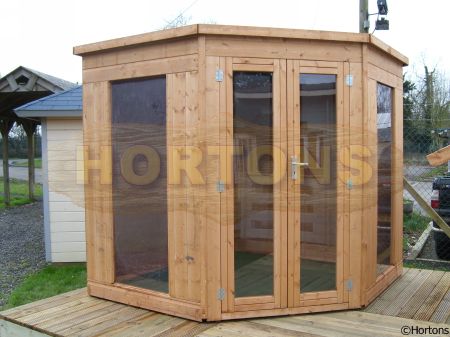 Click images For Enlarged View
Available Now For Call For Price
The Solis Summer House does what it says on the tin! It fits neatly into a corner plot and has all of the glazing and doors facing out towards the rest of your garden - ideal!
The Solis summerhouse contemporary styling will make a beautiful focal point to any garden setting. The full height glazing to the front aspect allows natural light to flood through, making an ideal space perfect for relaxing or entertaining, giving a panoramic view of your garden.
It is made with strong 27x32mm framing and clad with 12mm tongue and groove shiplap boarding. The roof of the summer house has mineral roofing felt which helps make your roof last for years to come.
Please Note Our garden buildings are pre-treated with a water based timber treatment for protection during transit. It is necessary that you treat the garden building with a high quality, spirit-based, timber preservative prior to or shortly after construction. This will protect the timber from weathering and will need to be repeated accordingly in relation to manufacturer's instructions.

Features:
* Fully Glazed Double Doors
* Two Fixed Side Windows
* FREE Factory Applied Basecoat
* Pre Glazed Windows
* Door Handle Fitted

Specifications:
Size: 7' x 7'
Width: 6' 6''(2.22m)
Depth: 6' 6'' (2.22m)
Height: 6' 6'' (1.98m)
Cladding Material: 12mm Shiplap Tongue and Groove
Floor Material: 10mm OSB Solid Sheet Board
Roof Material: 8mm OSB Solid Sheet Board
Roof Covering: Heavy Duty Mineral Felt
Number of Windows: 2
Door Height: 5' 8'' (1.73m)
Door Width: 3' 1'' (0.94m)
Cladding: Tongue & Groove Cladding
Roofing: 12mm t&g
Flooring: 12mm t&g
FSC Certified
Cladding Width: 12mm Tongue and Groove

If your budget doesn't stretch to the log type construction but you love the design, then these units are ideal. They still offer the same space and fit perfectly into a corner of your garden - the ideal little retreat!